How do I add an assistant?
If you are looking to add an Assistant, read this article.
When approved, the Assistant and Helper will receive emails and texts detailing that the Assistant is approved and changes have been made to the Helper's account. Additional assistants beyond the first approved assistant will be notified of their approval but the Lead Helper may not be. If the Assistant has received word of their approval, they are good to go.
How is being a Team Helper different from being a Single Helper?
On every 2 Helper Dolly and Route you see, you will now be seeing the 2 Person payout. 
When requesting a 2 Helper Dolly, you have the ability to tap and check that you will bring your Assistant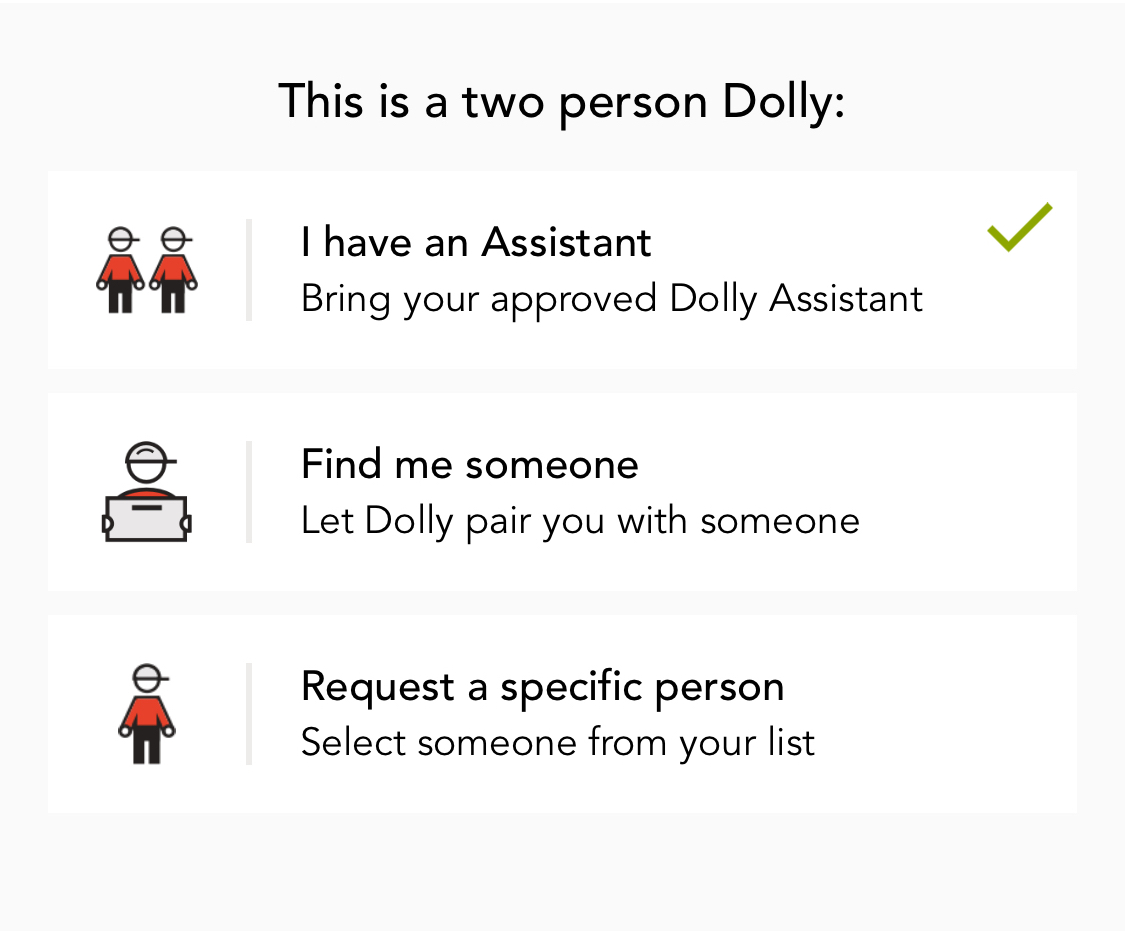 Can I still complete Dollys without my Assistant?
You still have the ability to have Dolly pair you with someone or request specific people if your Assistant is unavailable. If you are scheduled on the Dolly with a Helper / Hands and not your Assistant, the price will change to reflect your payout.  
Can I have multiple Assistants?
You are permitted to add multiple Assistants. You may only bring (1) of your approved Assistants at a time to a 2 person Dolly. 
Can I send my Assistant to do jobs without me?
You and an Assistant must be present and assist with any Dolly you agree to complete as a Team. Dispatching your Assistant in your place or allowing multiple Assistants to complete the Dolly instead of you is not permitted.
What do I do if my Assistant quits?
If you no longer have an active Assistant, you can request to have your Team status removed by emailing us.
How do I check on who is approved to be my Assistant?
You can email us to check your list of approved Assistants.
How do Assistants get paid?
Assistants become your subcontractor and do not receive payment from Dolly. You are responsible for compensating your assistant as you see fit. Many Helpers aim to pay their Assistant the amount a Hands would typically see, amounting to around 35% of pay for a given Dolly.
How do Assistants find out information about jobs?
Assistants do not have access to the Dolly Helper app and will rely on you, the lead Helper, for communication about the Dolly details.
Can I bring someone who isn't an approved Assistant to do a job with me?
Use of any person other than an approved Assistant while on Dollys will result in deactivation of your account. This is a violation of the Helper Agreement, subsection (f).
(f)  Your allowing any person other than a Dolly approved Subcontractor to be present when performing or assist you to fulfill Requests
Bringing an Assistant to a Dolly that they are not scheduled on is also not permitted.