Overview
Customers have the option to indicate whether they need assembly or not when booking a Store Delivery through the Dolly app or website. As an "Assembly-Eligible" Dolly Helper or Hand, you have the opportunity to opt into completing these assemblies (for an incremental payout).
Assembly vs. Breakdown jobs
"Assembly Only" is intended for new items that need to be put together when ordered from a retailer (e.g., a new bed frame).
"Breakdown" includes the cost of breaking down and reassembling the item for moving, and is not intended for new items. Breakdown includes reassembly.
Here are some things to keep in mind when bidding on Assembly jobs:
For some store pickups, you may see that a requirement for assembly is indicated. This means it has been added to the pay of the Dolly, and you will be responsible for assembling the item at the final delivery location.

When Assembly is added, the pay you see has already been adjusted to include additional pay for that assembly. Pay is determined on an item-specific basis depending on the typical size and complexity of the item being assembled or disassembled.

If the customer wants to add on assembly for a new item, you will need to add the assembly as an adjustment using the standard adjustment process.
Make sure you are prepared with tools you'll need for these Dollys! Basic tools include allen keys, screwdrivers, a mallet, and wrenches. A full list of recommended tools can be found at the bottom of this article.
By opting into Assembly, you acknowledge that you have read the requirements detailed on this page and are adequately prepared (including having tools) to complete these Dollys.
In California, there are additional requirements:
Helpers remove debris after assembly and dispose of it themselves.

Helpers are required to take a photo to confirm that they have completed the delivery / assembly and upload it.

Helpers wear their own self supplied booties (boot covers) in customer's home at all times.
Items with Assembly will be individually indicated with "Full Assembly", as seen below.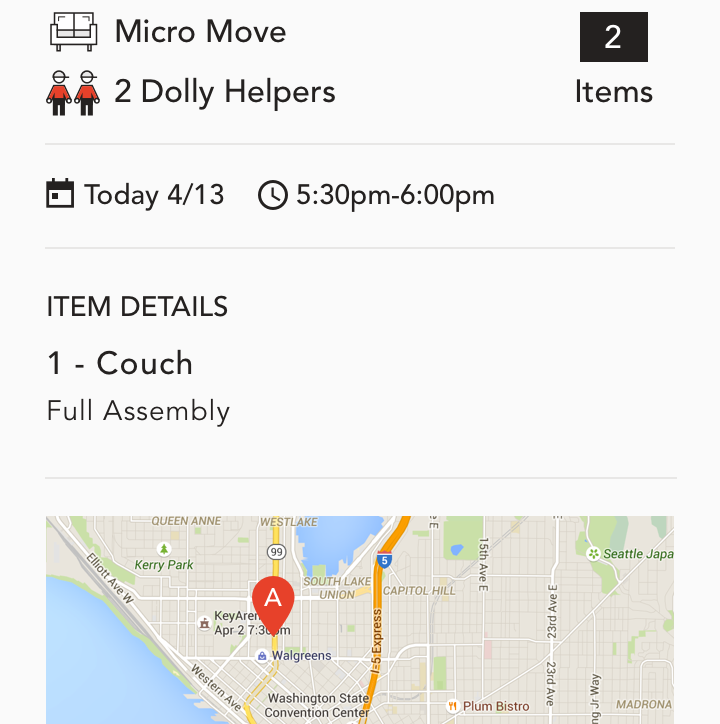 FAQ
Can assembly be added for any item? I don't know how to assemble an exercise machine.
We have audited the items in our system to determine which items are Assembly-Eligible. Some items are beyond the scope of what we consider reasonable to assemble (e.g., they are too complex or dangerous) and accordingly, we do not allow customers to request assembly for them. If you ever encounter an item that you believe shouldn't be eligible to for assembly, please reach out to us to let the team know!
What if the customer wants me to install their new dryer?
Assembly is not installation. For this reason, we don't offer assembly on most appliances. Our team has already excluded appliances or item where installation is required from our list of eligible items. That being said, if you do encounter an item that is marked as eligible for assembly but requires installation, please let us know.
How are the additional assembly fees paid out?
Assembly fees are included as a part of the Dolly price. Whatever price you see for a Dolly is what you will be paid and there is no additional pay on top of this for Dollys that are already marked as needing assembly. Item-specific pricing based on the typical assembly times is included in the quote to our customers to ensure that you are appropriately compensated for assemblies you undertake. Assembly Dollys are paid out like any other Dolly. For more information on how pay works here at Dolly, please refer to our Payments 101 article.
The customer would like their items assembled, but did not indicated it in the order. What do I do?
You'll need to request an adjustment using our inflight adjustments process (please click this link to find out more). If you have time in your schedule to offer this to the customer, you can make an adjustment to add it to the Dolly. Once the adjustment is approved, then you can get to work.
Full Breakdown of Tool Requirements
Required Tools for Assembly Dollys
This list includes a detailed breakdown of all tools needed to successfully complete Assembly Dollys. In case it's helpful, we've included links to examples of each tool. Please review this list carefully to ensure you are adequately equipped to handle whatever an Assembly Dolly might throw at you.
Screwdriver Set

Phillips head in at least s

izes 0, 1, and 2.

Flathead in at least sizes 4 and 6.

For both of these, you need a variety of neck lengths from 4" to 8".

Allen Key Wrench Set

Metric at least 1.5-10mm.
SAE at least 1/16-3/8ths inch.

Cordless Drill & Bits

Not only a timesaver, but sometimes necessary on assembly.

For bits, you should have a variety of screwdriving bits in both metric and SAE.
This should be comprehensive enough to cover phillips, flathead, and allen key parts listed above.

Socket Wrench with Metric and SAE Bits

It is essential to have a wrench set that is comprehensive for household needs. We recommend ratcheting, but this is up to personal preference.
You should have metric sockets for at least 6-18mm, and SAE sockets covering at least 3/8ths-3/4ths inch.

Adjustable Wrenches

Sometimes socket wrenches wont fit tight spaces, so you'll want to have

some alternatives.

One option is adjustable wrenches: you should have at least one smaller one (6") and one larger one (10-16").

Lightweight Hammer

A lightweight hammer can be essential for some assemblies.

Rubber Mallet

A standard Rubber Mallet is required on many assemblies. Handle variety is up to personal preference.

Dropcloth

A dropcloth will help you keep track of small parts, and avoid damaging the customers floor during assembly. At least 5'x8' to accommodate items of varying sizes.

Boxcutter / Safety Knife

Unpackaging will frequently require a sharp edge of some sort. What variety of boxcutter or safety knife you choose is up to personal preference.

Wet Wipes

Grease from screws can get on your hands and dirty the customers item or carpet! Make sure your hands are clean for moving.
Strongly Recommended Tools
Ratcheting Screwdriver & Bits

Upgrading from a screwdriver set to a ratcheting screwdriver can save your wrist and your time! Make sure to keep longneck screwdrivers onhand as well for tight spaces.

Combination Wrench Set

More accurate than adjustable wrenches, these can sometimes fit in tight spaces where the socket wont do.

Level

Can be a helpful tool to make sure the job is complete and satisfactory.

Electric Screwdriver

Smaller and easier to wield than a drill, though less powerful, sometimes this can be a preferred tool for more gentle assembly.
As an Amazon Associate we earn from qualifying purchases made using the above links.