What is a Team?
A Team is made up of a lead Helper (that's you!) and an approved Assistant. Once you are set up as a Team, you can request and be assigned to Dollys that require two people—no longer needing to be paired with another Helper or Hands.
An Assistant should be someone that you trust and want to work with. Once approved, Assistants are dedicated to the Helper that requested them. They will not have access to the Dolly app and will operate as a subcontractor to the Helper. Helpers can have multiple Assistants on their Team.
Why Work as a Team?
Work is easier when it's with a team member that matches your style, arrives on-time, and always follows your lead.
Coordinate with your Assistant instead of another Helper or Hands for easier scheduling so you can complete multiple Dollys in a day. You can utilize your existing business with the ability to add multiple Assistants to your account.
Assistant Requirements
Must be 18 years of age or older
Assistants do not need a Driver's License, but they must have a state ID (or a nother valid ID) in order to pass the background check.
Assistants MUST possess a valid SSN in order to pass the background check.
How to Add an Assistant
Step 1: Access and Share the Assistant Sign-Up Link from your Helper App
Open up the Helper App and navigate to the menu. Select "Create a Team". Navigate to the end of this slideshow to find your custom Assistant link. Share this link directly from the App by pressing the "Invite your Assistant" button.
Once this link has been shared, your aspiring Assistant must complete the Application process. Please note that they must apply through the link you shared.
Step 2: The Dolly Assistant Agreement
Your Assistant will be emailed an agreement to sign via HelloSign. They will need to review, sign and submit the agreement to move forward.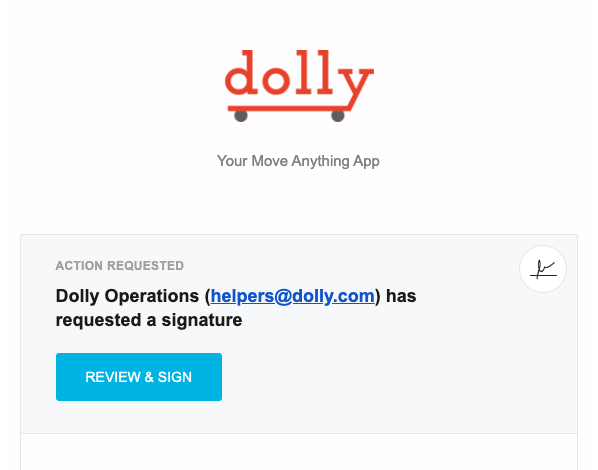 Step 3: The Background Check
Your Assistant will be background checked via Checkr. The Invitation will be emailed to your Assistant and will ask for their consent and a few details.
Step 4: Approval
When approved, you and your Assistant will receive emails and texts detailing that your Assistant is approved and changes have been made to the your account. Additional Assistants beyond the first approved Assistant will be notified of their approval but you may not be. If your assistant has received word of their approval, they are good to go.
I'm currently a Hands or Helper, can I become a Helper's Assistant?
Yes, if you are currently a Dolly Hands or Helper and you're interested in working with a specific Helper, you have the ability to become their Assistant to form a Team. You will need to contact our Support team for by following this link here. Please provide the Name and phone number of the Lead you would like to assist. The Dolly Helper Team needs to get confirmation from both you and the Helper that both of you want to become a Team.
Dolly Team Guidelines and Expectations
Requesting a Dolly as a Team
On every 2 Helper Dolly and Route you see, you will now be seeing the 2 Person payout.

When requesting a 2 Helper Dolly, you have the ability to indicate that you will bring your Assistant when bidding on a Dolly.

As you can see, you still have the ability to have Dolly pair you with someone or request specific people if your Assistant is unavailable. If you are scheduled on the Dolly with a Helper / Hands and not your Assistant, the price will change to reflect your payout.
Dolly Team Expectations
You are permitted to add multiple Assistants. You may only bring (1) of your approved Assistants at a time to a 2 person Dolly.

If you no longer have an active Assistant, you can request to have your Team status removed by contacting our Support team.
You can check your list of approved Assistants by contacting our Support team.
Assistants become your subcontractor and do not receive payment from Dolly. You are responsible for compensating your Assistant as you see fit. Many

Helpers aim to pay their Assistant the amount a Hands would typically see, amounting to around 35% of pay for a given Dolly.

Assistants do not have access to the Dolly Helper app and will rely on you, the lead Helper, for communication about the Dolly details.

Use of any person other than an approved Assistant while on Dollys will result in deactivation of your account. This is a violation of the Helper Agreement, subsection (f).

(f) Your allowing any person other than a Dolly approved Subcontractor to be present when performing or assist you to fulfill Requests

You must be present and assist with any Dolly you agree to complete as a Team. Dispatching your Assistant in your place or allowing multiple Assistants to complete the Dolly instead of you is not permitted and will result in deactivation.